Staff Sergeant John W. Martin was a Soldier in Easy company in the 506th.
Biography
[
]
Early life
[
]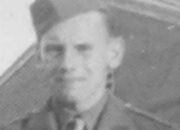 John W. Martin was born in Columbus, Ohio on May 12, 1922.
He served as a railroad worker for most of his early life. In 1942, he married a woman named Patricia. Later that year, he enlisted in the Army at Columbus, and volunteered for the Paratroopers.
WWII
[
]
Martin was assigned to Easy Company, in the 506th PIR in the 101st Airborne, at Camp Toccoa. After training, and graduating at Fort Benning as a Paratrooper, he was promoted to Sergeant.
He and the company were sent to Aldbourne, England, to await Operation Overlord. A little bit before the invasion, his wife sent him a letter about the death of Bill Guarnere's brother. When Martin sought Sgt. C. Carwood Lipton's advice, Lipton said that he should tell Guarnere the news, despite it being before their first combat jump. When the jump was cancelled due to bad weather, Martin decided to swap jackets with Bill so that he would find the letter 'by accident', rather than tell him outright.
He would later fight in Normandy, and continued until they were taken off the line on July 9th. He would fight into Operation Market Garden in Holland in September 17, till they were removed in November 27th, and then fought in the Battle of the Bulge through December 18th, to January 20th.
While occupying the town of Hagenau in Alsace, France, he and Lt. Jack Foley had to bring down a drunk soldier named Private Roy W. Cobb who was causing trouble, and would later have to be discharged.
Martin continued to serve in the army in occupying Germany and Austria, till he was discharged after the war as a Staff Sergeant.
Later life
[
]
After the war, he returned to Ohio and attended the Ohio State University. After graduating, he went back to work at the railroad. He then moved to Phoenix, Arizona, where he would build apartments and homes. He continued building in the states of Texas, and Montana, and bought a cattle ranch in the latter state. He would then found the Martin Construction Company, and lived the rest of his life as a multimillionaire.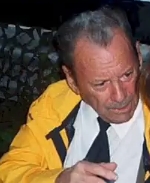 He died on January 26, 2005.