Sergeant Elmer L. Murray was a non-commissioned officer in Easy Company.
Biography
[
]
WWII
[
]
Elmer Murray enlisted in the Army on August 20, 1942 in Los Angeles, California. Prior to that, he worked at an aircraft manufacturing plant. He would be assigned to Easy Company, 506th PIR and served as the company's operations sergeant. Elmer Murray was good friends with Robert Burr Smith and Carwood Lipton. According to Smith, they both served at the divisional jump school at Chilton, Foliat while the unit was stationed in England. Photographs of Murray (alongside fellow soldier James T. Flanagan) were dropped into France prior to D-Day to familiarize the French with how American paratroopers looked like.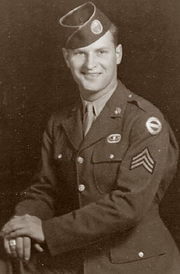 On June 4th, after the invasion was postponed due to poor weather conditions, Murray and Lipton opted to spend their evening discussing hypothetical combat situations while the rest of the company went to the movies. Murray, who was in charge of the operations and readiness of the company, did not survive to see his work get implemented in battle. At the age of 22, Murray was killed on D-Day old alongside most of Easy's HQ section when his plane, Stick 66, was struck by enemy fire and crashed in Normandy. Robert Burr Smith would temporarily serve as the operations sergeant while Murray was presumed to be missing in action. After Murray's death was confirmed, Staff Sergeant Leo Boyle was selected by Captain Winters to serve as the company's new operations sergeant.
HBO Miniseries
[
]
Murray appeared briefly in the miniseries as an uncredited background character during crowd sequences. He can be seen without face paint on as Lieutenant Meehan informs the men about their jump being postponed in "Currahee." The reason why Murray, along with many others, did not have face paint on was because they were portrayed by stunt choreographers for Stick 66's crash and needed to be easily identifiable on set by the directors. In earlier drafts for "Day of Days," Murray was listed as the soldier who informs Lieutenant Meehan that 1/Sgt. William Evans needed assistance.