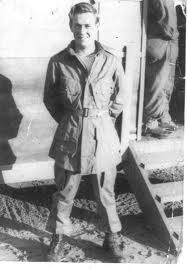 Sergeant Warren H. "Skip" Muck was a paratrooper in Easy Company and a friend of Donald Malarkey and to PFC. Alex M. Penkala Jr.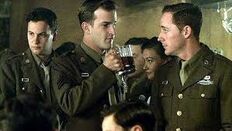 Biography
[
]
Early life
[
]
Muck was born in Tonawanda, New York on 31 January 1922 to German parents. When he was a child, he swam the Niagara River. He attended Tonawanda High School, graduating in 1942.
WWII
[
]
Muck enlisted in the Army in 1942 at Buffalo, New York and was assigned as a mortarman in the Mortar Squad, of 2nd Platoon, Easy Company, 2nd Battalion, 506th Parachute Infantry Regiment, 101st Airborne Division. Eventually, he was promoted to sergeant and transferred to the Mortar Squad, 1st Platoon, by Lieutenant Winters. They dropped into Normandy, France on D-Day as part of Operation Overlord: Muck got lost but eventually reunited with his Company. He fought at Carentan and later headed to Holland for Operation Market Garden. When his unit was beset by German tanks and infantry at the town of Nuenen, Muck and Guarnere helped take out a machine gun nest atop a building. Muck then participated in the Crossroads assault, firing mortars at the machine gun nests and providing covering fire.
Easy Company was eventually sent to the Bois Jacques, an area in the Ardennes forest in Belgium near the town of Bastogne, to fight against the German offensive of the Ardennes, known as the Battle of the Bulge. Muck and Easy Company survived long artillery raids made by the Germans and faced off against a fierce tank offensive. Afterwards, Muck and the men advanced upon Foy where the German artillery was located. Muck and Alex Penkala were killed when an artillery round hit their foxhole and exploded. Their remains were buried at Luxembourg National Cemetery.