Private First Class Robert Van Klinken is a soldier featured in Band of Brothers, a personal friend to both Donald Hoobler and David Kenyon Webster
Biography
[
]
Early life
[
]
Van Klinken was born on 31 October 1919 in Loomis, Washington. After moving to Twisp and finishing school, he worked in the mines, but later became a car mechanic.
WWII
[
]
In 1942, Van Klinken enlisted at Fort Lewis and volunteered for the Paratroopers. He was placed in Easy Company, 2nd Battalion, 506th PIR, 101st Airborne at Camp Toccoa as a bazooka man. He earned his jump wings at Fort Benning and later went to Camp Mackall for more training.
In September 1943, Easy Company shipped to Aldbourne, England to prepare for the invasion of Europe. On 6 June 1944, they jumped into Normandy for the D-Day invasion.
After a few days of fighting, Easy Company headed towards Carentan on 10 June, where they fought and won a vicious battle. They were eventually attacked but stayed to defend the town. Van Klinken was seen over a wounded man with a grenade launcher. He yelled for a medic and then took the trooper's launcher. He fired the grenade but was suddenly struck in the shoulder, wounded. Van Klinken was sent back to England and hospitalized.
Van Klinken recovered and rejoined Easy Company in time for Operation Market Garden. They dropped into Holland and were warmly greeted by the Dutch people. One night, Van Klinken, David Kenyon Webster and Don Hoobler approached and met a Dutch man, who claimed he had been hiding from the Germans. He fed the soldiers and they returned the favor by giving his son chocolate, which the boy enjoyed. The Dutch man told them his son hadn't had chocolate before.
On 20 September, while heading toward the town of Nuenen, Easy Company was met by a German tank and infantry attack. While fighting in the city, Van Klinken hid behind a hedgerow with a couple others. He eventually made a break towards a bazooka, but was wounded by a burst of machine gun fire. His body was carried away as the men retreated and he eventually died of his wounds that night.
He is buried at the Netherlands American Cemetery, Plot C, Row 8, Grave 32, Margraten, Netherlands.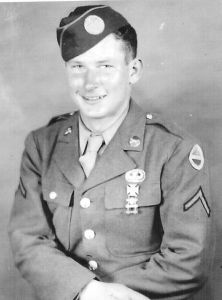 Personality
[
]
Van Klinken did not receive much character development in the story. Judging by how he acted, he seemed to be a smart and patient soldier. He knew how to handle himself in combat and was proud to be a Paratrooper. He was best friends with David Webster and Donald Hoobler (KIA Bastogne.) He was always seen with them and usually joked around. He was 25 at the time of his death.