Corporal Francis J. Mellet was a machine gunner in Easy Company
Biography
Edit
Early life
Edit
Mellet was born on July 7, 1920, in Long Island, New York
Around 1942, Mellet decided to join the Paratroopers.
Mellet trained with Easy Company, 2nd Battalion, 506th PIR, 101st Airborne, at Camp Toccoa, and was assigned to the 3rd Platoon as an assistant machine gunner to Corporal Walter F. Gordon.
After training at Fort Benning, and Camps Mackall and Shanks, he headed to Aldbourne England to await the invasion of Europe.
He landed in Normandy on June 6, 1944. When he landed, he immediatly threw away the tripod to his .30 cal. Machine gun. He first ran into Ed Tipper, and then was able to group with Walter Gordon, Floyd Talbert, Forrest Guth, John Eubanks, David Morris, Daniel West, C.T Smith, and Arthur Youman, as well as several other paratroopers.[1] After meeting up in Ste. Marie-du-Monte, Mellet helped secure the town of Carentan, and survived the rest of the campaign.
He then landed in Holland on September 17. After the campaign, Mellet, who was never hit, considered that when he was going to be hit, it was going to be bad.
And after heading to Bastogne on December 18, while taking the town of Foy, Mellet was shot in the chest by a sniper. He was instantly killed.
He is buried at Long Island National Cemetery.[2]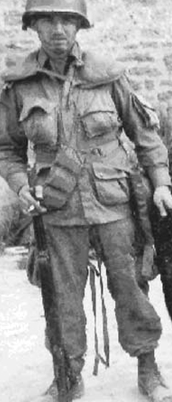 References
Edit