This wiki is a community site that aims to create a reliable information source
for the famous HBO miniseries
Band of Brothers.
We are happy to let anyone edit articles for only information.
| | | | |
| --- | --- | --- | --- |
| Richard Winters | Lewis Nixon | C. Carwood Lipton | Donald Malarkey |
| David Webster | William Guarnere | Frank Perconte | Denver Randleman |
| Eugene Roe | Ronald Speirs | Joseph Liebgott | Albert Blithe |
| Robert Sink | Herbert Sobel | Warren Muck | Roy W. Cobb |
__________________________________
How to be an administrator
If you want to be an admin. you must first check the
administrator how-to guide.
Here, it will help with all the information you will need.
Currant Administrators
The currant Administrators are:
Snivystorm - Current owner of the wiki
AnyGuy - Former owner of the wiki
About HBO's Band of Brothers
Band of Brothers is a WWII miniseries based off of the book of the same name by Stephen Ambrose, that follows the men of Easy Company, 2nd Battalion, 506th Parachute Infantry Regiment, 101st Airborne Division.

Taking place from 1942-1945, and following from the Airborne Infantry's training at camp Toccoa, Georgia, USA, to variuos places in Europe, notably Normandy France, Holland, Belgium and Germany - it is set during the European theater of World War II. Band of Brothers was created by Tom Hanks, Gary Goetzman, and Steven Spielberg, and is owned by Dreamworks and Playtone.



Featured media: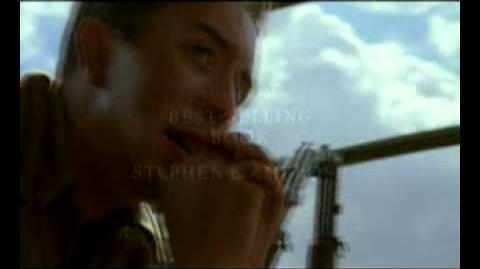 Helping out
We are currently housing 132 articles, and 310 files. We need YOUR help expanding and adding articles to the wiki!
---
If you're new to wikia, please use the above links to get started.
If you already have editing experience, and you have an article relating to Band of Brothers to contribute, use the box below to create it:

<createbox>width=30</createbox>

Thank you!
Featured Article
Easy Company–
Easy Company was activated in 1942 for the 506th Parachute Infantry Regiment in the U.S. Army at Camp Toccoa, Georgia, as part of the airborne infantry. It was used as an expiremental unit flying in C-47 transport planes to drop soldiers into hostile territory. It was made of three platoons and a headquarters section. There were three rifle squads in each platoon, a mortar squad in each platoon, and a machine gun attached to each rifle squad.
Live Newsreel
User Blogs
Hello,
I just wanted to ask if the Admin, Snivystorm, is still active. Otherwise, I'd like to adopt this wiki as an admin.
If the admin is still active, though, I think this wiki could still be better …
See more >
Latest Activity