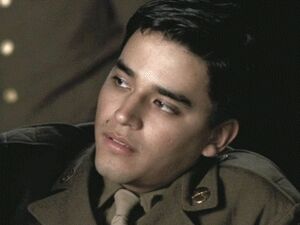 Techinician Fifth Grade Antonio "Tony" C. Garcia was a replacement for Easy Company and was put into Sergeant Denver "Bull" Randleman's squad. He is played in the series by actor Douglas Spain.
Biography
[
]
Earlier Life
[
]
Born on October 15th, 1924, Garcia was a native of Inez, Texas, and was a high school student in Cheyenne, Wyoming when he enlisted as a Paratrooper. He borrowed a friend's prescription medicine to cover up a heart murmur for his Army physical and was accepted for training in 1943.  
World War II
[
]
He was friends with his fellow replacements Private Lester Hashey, Private James W. Miller and Private Edward J. "Babe" Heffron, who quickly became friends with Staff Sergeant William J. "Bill" Guarnere.
With Easy Company of the 506th Parachute Infantry Regiment, 101st Airborne Division, Garcia served during the last two years of the war and participated in some of its most bloody battles. Like many veterans, he was reluctant to talk about the horrors of combat.
He first saw combat during Operation Market Garden in the Battle of Nuenen, where Private Miller was killed by a mortar shell. He fought on "The Island", at Bastogne, and remained with Easy Company until the end of the war. He is seen in the baseball scene in part 10, "Points".
Later life
[
]
After the war, Garcias managed a department store warehouse in Colma, California for three decades. He and his wife Nancy had four children. In 1999, at the age of 74, he made a parachute jump as part of a reunion with his Easy Company comrades.  
Garcia died on 18 August 2005 at Peninsula Medical Center in Burlingame after a stroke. He was 80. A memorial service was held Sept. 30 at 12:30 p.m. at St. Dominic's Catholic Church, 2390 Bush St., San Francisco.
Trivia
[
]
References
[
]